About Caitlin
If you hadn't guessed by the title of this website, I'm Caitlin!
I was born and raised in Saint Louis, Missouri, then studied Public Relations & Business at Purdue University. I graduated in 2016 and moved to Chicago to work in the PR world. In 2017, I started working for myself through my blog and freelance gigs. The pandemic led me to formalize my freelancing into Curio Five, where I handle affiliate and digital marketing for clients. I am in my eighth year of creating content on this blog and my social channels, and it truly never gets old. It's been a privilege to grow up together, and I'm glad you're here!
Some quick facts about me:
I love blue fireworks and Christmas lights
My go-to Starbucks order: a grande vanilla chai tea latte with almond milk
I minored in Spanish and had the chance to study abroad in both Spain and Costa Rica, and now I am two years into learning French
I have attended eight Fashion Weeks (7 NYFW & 1 LFW) and one of my dreams is to hit a full Fashion Month
I love thrifting, and especially thrifting vintage designer!
About Sophisticaition.com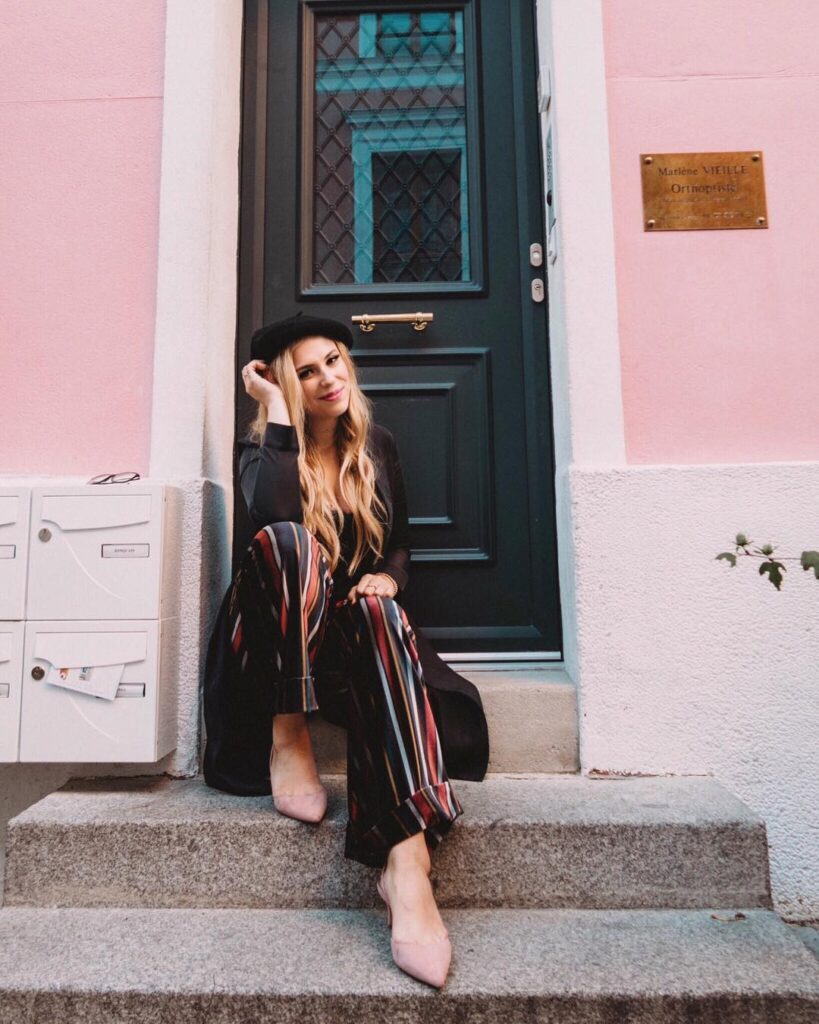 I'd love to tell you a story about dressing up in my mom's clothes as a child and instantly falling in love with couture, but that, my dear, is not my blog origin story. Thanks to bad astigmatism and some horrible genetics, I had both glasses and braces for two rough years in middle and high school. YIKES! Needless to say, I was not confident in my appearance. After I got contacts made specifically for my astigmatism and the braces came off, nothing changed. I may have looked completely different but I still felt just as insecure. I picked apart my body and found flaws in nearly everything. I also got obsessive about counting calories and tracked my weight every single day. Even though I was a successful student, over-involved and taking loads of AP classes, I was being a version of myself that I thought others wanted me to be. It took a long time for me to realize that these methods would not help me feel better about myself, or help me to evolve. This blog and every high and low associated with it has helped me immensely to not only develop my personal style, but also grow as a person.
Sophisticaition was created in July 2015 but at first, I didn't share it with anyone. After some hard conversations with friends, I realized that I was still letting insecurity hold me back. I went public with my blog in 2016, which I look back on as a defining moment in my life. It's when I chose my happiness over other's opinions. In the seven years since, my blog has helped me navigate the journey of choosing my happiness and protecting my peace in both my work and personal lives. It has connected me to people from all over the world, given me career opportunities I would have only ever dreamed of, introduced me to some of my best friends, and challenged me in ways I never expected. I am extremely proud of the respect Sophisticaition has earned from brand partners, agencies, and more than anyone, my readers.