Bringing back one of my older blog series because I am going to start posting about it on TikTok 🙂 This Gold Star post isn't for just one product, but for the entire Anthropologie Bistro Tile collection!
I started collecting pieces from the Anthro Bistro Tile collection during the pandemic. I believe that the first two pieces I got were the Joie de Vivre tray and the Good Day Sunshine spoon rest, gifted by my mom. When I moved into a new place, the collection continued to grow from there. I love the quality of every piece I own and how they give off a unique vintage vibe (especially in modern kitchens!)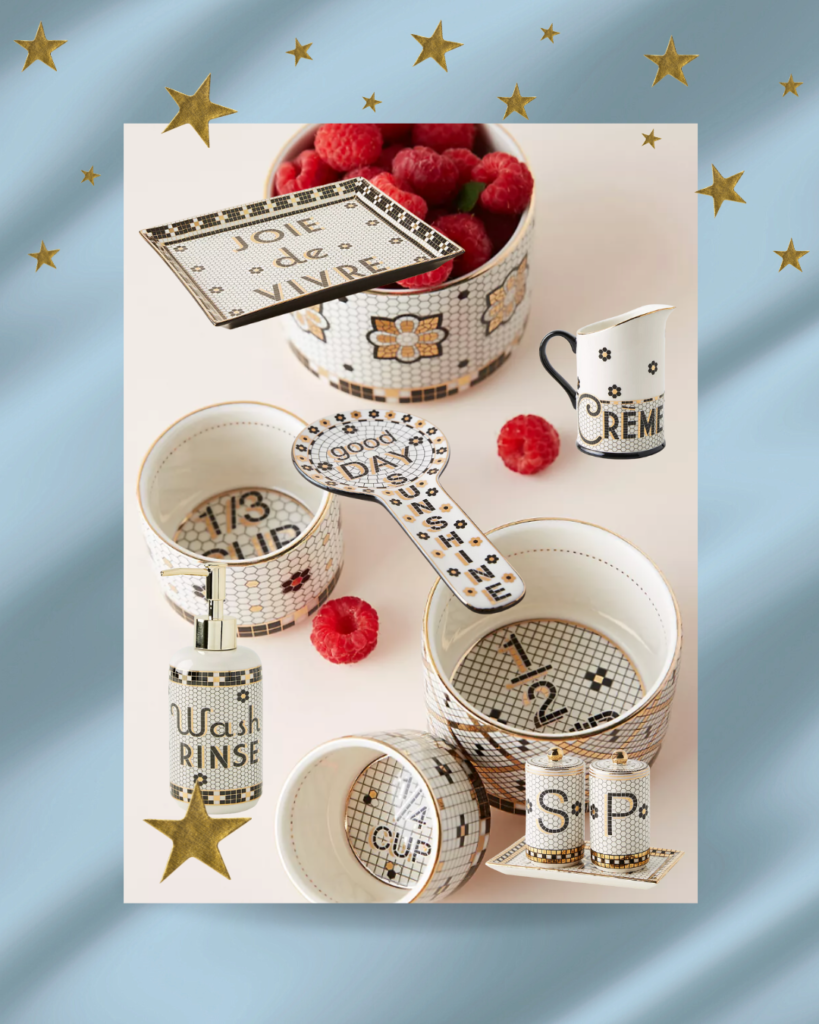 my collection so far

Let's run through some of my personal favorites:
Joie de Vivre Tray

My mom got me this tray for Christmas in 2020 and I love it! I have it in my kitchen as a kind of "catch all" for extra items that don't truly belong there but ended up there (ex: rubber bands, hair clips, pens). It's a nice thick ceramic and I love the curved edges to ensure everything stays in place! Plus, I love the message on it.
Good Day Sunshine Spoon Rest

My mom also gifted me this spoon rest that currently sits on top of my stove. It's a little something to break up all the black and stainless steel!
Measuring Cups

Of all my items, the measuring cups are probably the ones I use the most (besides the soap which is like 10x a day but that's in its own category, haha!). I love being able to quickly put the 1/3 cup of protein powder into my smoothie, or add 1/2 cup of chocolate chips to my cookie recipe. I just rinse them out and dry them with a Swedish cloth or leave them sit out on my dishwasher pad.
Creme de la Creme Creamer

Confession, I actually haven't used this for creamer! I just have it sitting by my coffee bar and I think it adds a nice touch to the space.
Salt & Pepper Shakers

I love these little guys! They are so adorable, and the tray they sit on says Bon Appetit! It's really easy to refill with salt and pepper as needed.
Wash & Rinse Soap Dispenser

I believe this is technically for the bathroom, but I have it in my kitchen alongside the other pieces. It's something different, and super easy to refill with my favorite soap!
I have my eye on a few other Bistro Tile pieces… so when Anthropologie has a sale, I may add to this post!
xx