In one week, I will be home for my Christmas vacation! I cannot WAIT! My entire family hasn't been together since my grandpa's 80th birthday party in May and I am super pumped to see everyone. I also lovelovelove Christmas food. It beats Thanksgiving food any day for me. I know the second I get off the plane in STL, my taste buds will be extremely happy! Christmas cookies, German pastries, and mom's cooking 🙂
In the meantime, I have to decide what I am wearing for Christmas, and this number is definitely an option. It makes me feel classy and timeless with tight enough fabric to make me feel a little hot.
This post contains affiliate links.
The floral pattern in the lace reminds me of holly leaves, and what could be more perfect for Christmas time?!
I also am loving these convertible tights that are letting me wear my peep toe heels through winter! I had them packed away in a box high in my closet and you cannot believe how excited I was to break them back out thanks to the Convertibles.
These tights are warm, flattering AND can fit any outfit. They can cover your toes like traditional tights, roll up to allow a peep toe, and even go up to your ankle if you need to change into different shoes. Talk about user friendly! I know my feet KILL after a night out in heels, so switching into flats after is always the move. I sometimes would ruin my tights in the process 🙁 but now I don't have that issue since the Convertibles roll up to my ankles! They come in black and nude, so they're the perfect addition to any outfit. Make sure to order some to get you through the winter!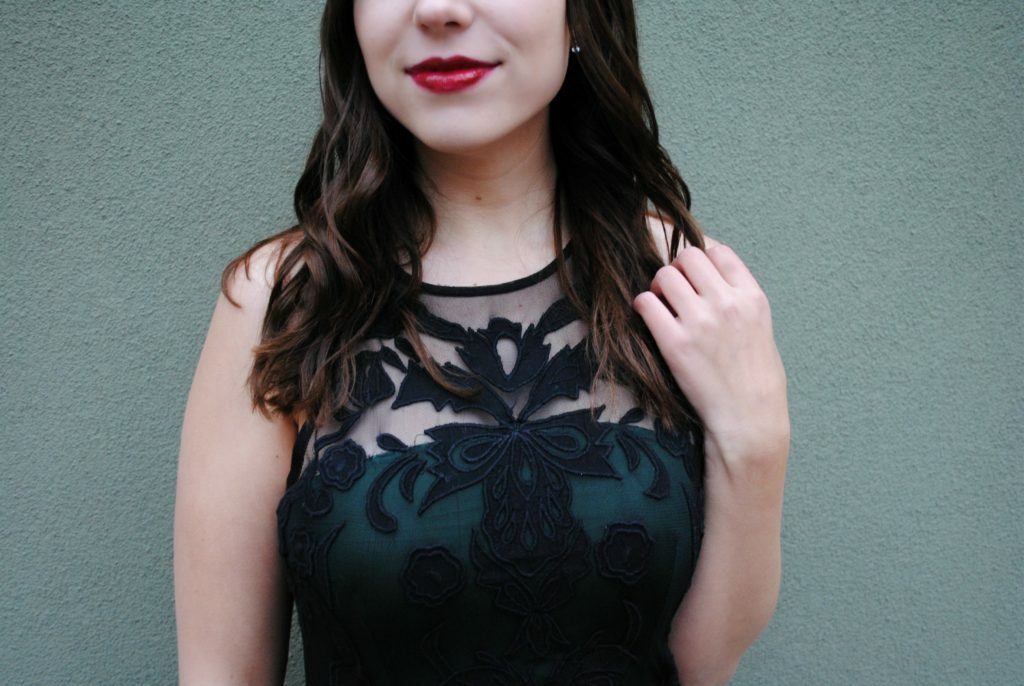 Unrelated: I'm considering changing my hair color (BARELY) based on what I've been seeing on Pinterest. I'll definitely update before I do anything drastic!
 Shop This Look