Hear that noise? It's wedding bells. Wedding season is upon us. Here is everything you need to know about being a wedding guest!
This post contains affiliate links.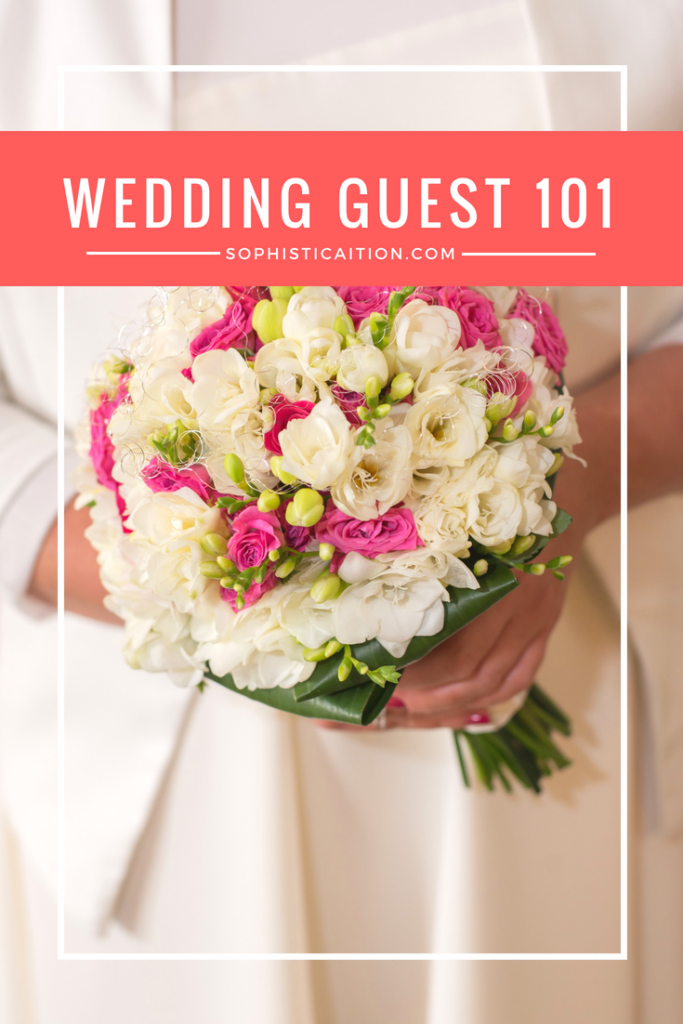 What to Wear
I hope this is already known, but do NOT wear white. At all. No "but I have flowers on my white dress!" or "I look so tan in white!" I'm sorry, you are not wearing white.
The invite should have a clue for what type of dress code you should be following.
Casual – A sundress that you would wear to church or brunch.
Semiformal / Dressy Casual / Snappy Casual – A cocktail dress or a dress made with a nicer fabric.
Formal – A long dress or a very classy cocktail dress.
Black Tie – A dressy long dress.
White Tie – I really doubt you will be going to a white tie, but this would be your White House State Dinner of a dress.
It seems to me that most weddings I have gone to have been "dressy casual" or "formal" which means you most likely have something you can wear already hanging in your closet. For anything black or white tie, I would suggest Rent the Runway, so you aren't paying for an evening gown.
I have gotten some messages asking if guests have to dress in the wedding colors – not at all! The bridal party will be in the color scheme, but you are free to wear ANY color. Except white.
Below are some examples of dresses I would consider appropriate for most weddings.

What to Bring
I would bring a small to medium-sized purse. Anything big or tote-like will be a hassle to carry. Inside said purse, I would bring lipstick, gum, a pony tail holder, body spray or perfume, a snack, and a phone charger. This is your wedding survival kit, no matter the weather, no matter the food!!!
Make sure your shoes are walkable – I am sure you will be taking heels off to dance, but if you are barely able to walk into the reception, you have a major shoe issue.
Who to Take
First off, you need to figure out if you even CAN bring someone. Not all weddings give out plus ones. Generally, if you will be offered a plus one, your wedding invite will be made out to "Your Name and Guest"! Otherwise, it will be addressed to you alone, and that is your hint.
Now – if you DO get a plus one, who do you bring? If you have a long-term significant other, the choice is pretty obvious. If you are in a new relationship, bringing your new BF or GF could be a good way for them to meet your friends/family, but if it's a VERY new relationship, you may be better off bringing a friend and just telling your BF/GF you've been planning on going together since you didn't anticipate meeting someone. If you are single AF, I would bring another single friend along that you know will be able to entertain themselves if you are whisked away for a photo with a college friend or need to wait in line for the bathroom.
What to Gift
Nowadays, most couples have registered online somewhere, so selecting a gift is relatively easy. The registries will show you what gifts have already been purchased by other guests and which are still available. If you have other friends going to the wedding, consider buying into a bigger gift as a group. The bridge and groom would prefer you buy them things they actually want and need (which tend to be more expensive) instead of the filler cheap items they included like hand towels and oven mitts.
Happy wedding SZN!!!