We talked about wearing blush into fall before, but today it is Labor Day! Apparently, you can't wear white after today, thanks to some antiquated societal rule people used after the Civil War to distinguish old money from new money. I say screw that, wear white all year long!
Here are some easy ways to keep wearing white after Labor Day, along with some of my favorite winter white picks (most are on sale!)
This post contains affiliate links.
White Sweaters
Perhaps the easiest way to wear white after Labor Day is through sweaters. Typically, wearing a white sweater allows for fun pops of color via vests, coats, scarves and other accessories.
I wore a white sweater under a J.Crew check vest last fall (with my dark hair) and I loved how the outfit turned out!
Shop My Picks

White Dresses
You can wear white dresses with booties, riding boots, etc. and a big comfy scarf. You'd treat a white dress the same way you'd treat a white sweater: It's a blank canvas.
Last fall, I wore a white fuzzy dress with some OTK boots and a black patterned cardigan. It was such a fun and comfy outfit!
Shop My Picks

White Jeans
Bare with me here. I know that white jeans are typically the biggest no-no of this "No White" rule. However, there are lots of ways you can use white jeans as a winter white accent.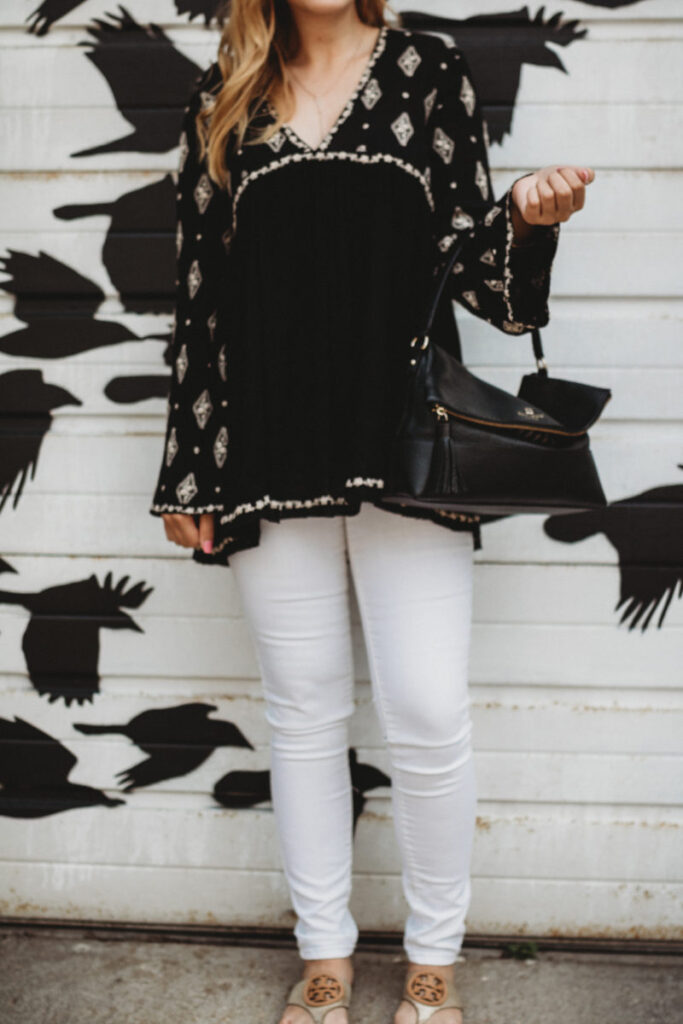 I styled this adorable Free People tunic top with white jeans to really create contrast and interest. I still think these white jeans look fine! I would say that it is important to have a bold colored top when wearing white jeans in winter or you will look too spring-like.
Some other ideas of things you can wear with white jeans: Turtlenecks, sweaters, dusters, sweatshirts, off the shoulder top, etc.
Shop My Picks

White Vests
White vests help bring outfits together with a stark white in your layering. I just got the cutest vest during the Nordstrom Sale and I can't wait to style it with some patterned flannels!
Last fall, I paired a white J.Crew puffer vest with a fun flannel.
Shop My Picks

White Scarves
Finally, white scarves add some great contrast to any outfit!
My friend Olivia from Prep Essentials styled an outfit last winter with a white scarf! I love it!
Shop My Picks

What are your thoughts on wearing white after Labor Day?