I have many faults, but one of the ones I hate the most is my indecisiveness. Normally, this manifests in my friends/family asking, "Where should we get food?" and me replying, "I don't know," or, "I'll eat anything." This is most problematic when important decisions need to be made, like figuring out the scale of my business plan, or most recently, knowing how to fill out the lease renewal form dropped in my mailbox by my landlord.
Not going to lie, I've Googled "how to make tough decisions" before. I've Googled nearly every variant of it, too. I've sifted through the random Yahoo answers and the Scientific American articles alike (linked for your reading pleasure). However amusing I may find the advice given by strangers, I can't say it works for my type-A, need-to-plan-every-second mind.
For those of you who are like me and HATE things you can't control, here is my tried and true method for making tough decisions. At least, I think it is 😉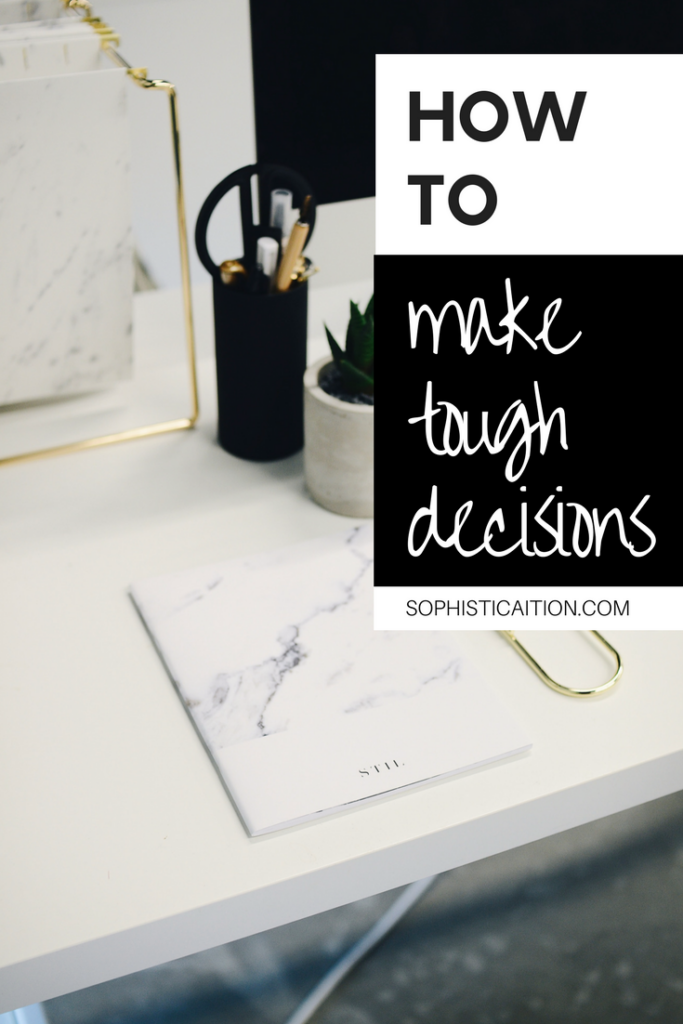 Write down every possible decision.
There are sometimes obvious choices in a decision, but more often than not, there are seemingly more choices than we ever see at surface level. My lease is up, and so I may initially see my options as "resign" or "move out," but there really are way more. I could "resign," but moving out could mean moving to a bigger apartment in Chicago, moving home, moving to a brand new city… Way more options than I initially considered. I think it's important to think on every single one (within reason). Easily eliminating some that are technically possible but obviously not a good fit help you feel like you're more in control. Crossing off "Move to Europe" was pretty easy because ya girl is not trying to get taxed twice #selfemploymentprobs
Plan out each of the top two decisions.
Figure out the best case and worst case scenarios for both. You'll end up with four vastly different ideas of your life. Which is scariest? Which is the most ideal? Where are the short-term and long-term consequences minimized?
Ask for advice from three people.
Oddly specific, you may be thinking as you are reading. Here's the thing: it works IF you pick those three people correctly. The first is someone who is an eternal optimist, who sugar coats things and always tells you you look good when you know you don't. The second is a realist, who hardballs you and plays devil's advocate (if you don't know who this person is in your life, think of the person who's hardest on people you date). The third is someone who knows you better than anyone else, whether that's your childhood friend, your significant other or your mom. I've found that frequently, these people offer you the SAME advice even though they have vastly different ways of arriving at that decision.
Ask these three people, and only these three people, for their opinions. No one else. Anyone more complicates the process and you'll be more worried about listening to others' thoughts than making the right call for you.
Stop thinking about it.
If you are stuck on a decision, give yourself scheduled time to NOT think about it. I normally allot a week before I revisit a decision if I'm having a hard time. A lot can change in that time, and when I look at the options again, one may be a clear frontrunner.
If all else fails… Flip a coin.
If you feel relief, you know that's the right decision. If you're not happy with the side you got, then you know the right decision. Trust your gut.
I teamed up with fellow bloggers to host this giveaway!
Enter to win a $400 Target Giftcard by earning points!
The more points you earn, the higher the chance is that you'll win!*


*By entering this giveaway, you agree to opt-into the sponsor's newsletters. More information can be found within the Terms and Conditions.