A big part to finding your personal style is understanding how to dress for your body type! Everyone's body is unique and it only makes sense that some cuts and silhouettes will be flattering on one body type but not flattering on another. Finding the right clothes for your body type is so important because that way you know that if something looks bad, it's not YOU… it's the clothes! I can't tell you how many times that I've tried on clothes with friends, and a dress looked STUNNING on one of them but like a potato sack on me. Wamp wamp wamp! After we've found our body types and what cuts of clothing are most flattering for them, all these dressing room experiences make complete sense – we have opposite body types! Let's dive into how to figure out your body type as well as how to dress for your body type so that you can look and feel your best.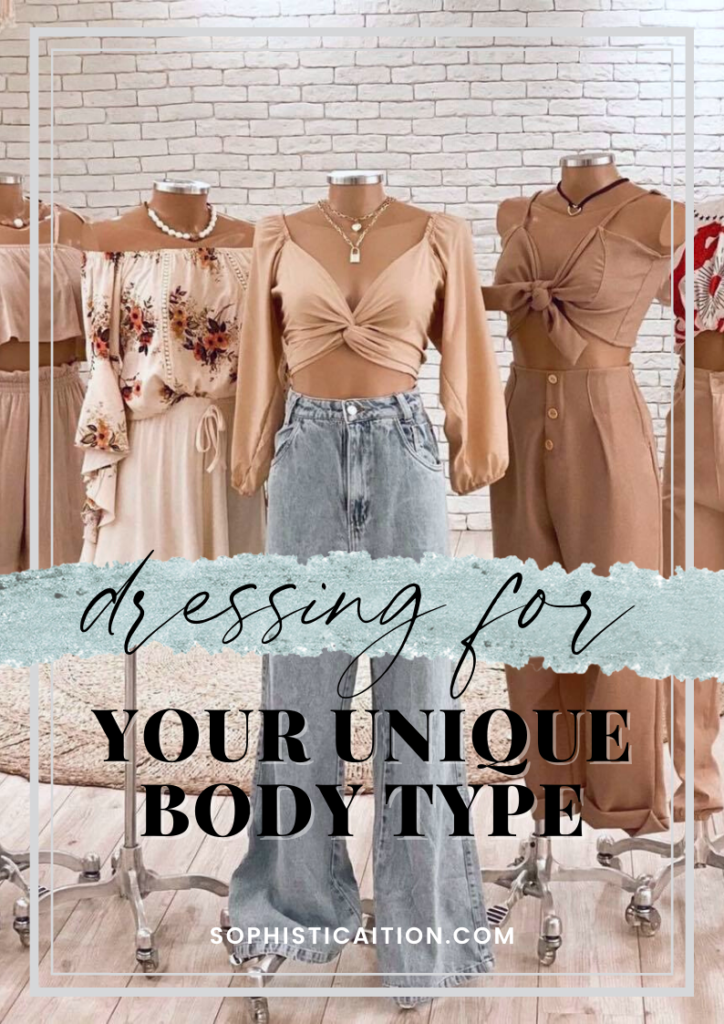 Understanding Body Types

There are many different ways you can classify body types, but through my TikTok research, these seemed the most prominent:
Apple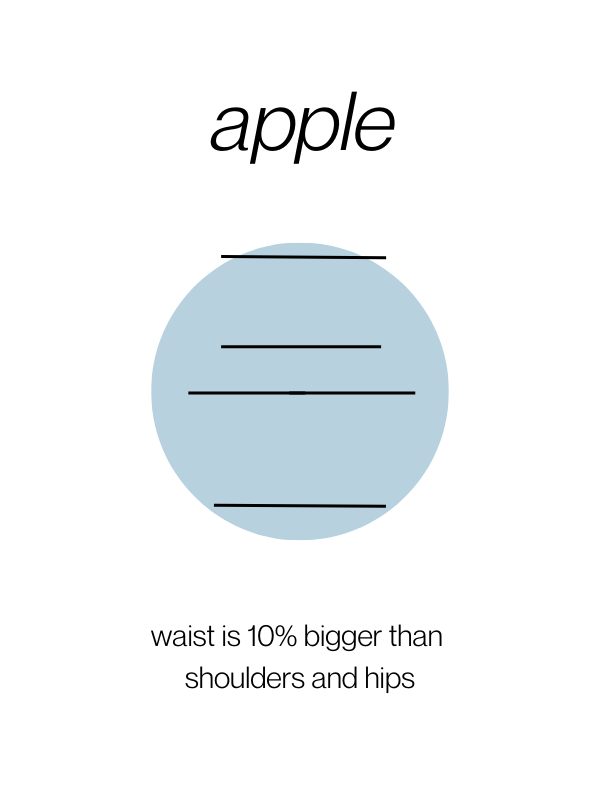 Apple body types have a waist that is 10%+ bigger than their shoulders and hips when comparing measurements. This is sometimes so slight that it is hard to notice.
Celebrity examples:
Amy Schumer
Jennifer Hudson
Drew Barrymore
Kate Winslet
Catherine Zeta-Jones
Hourglass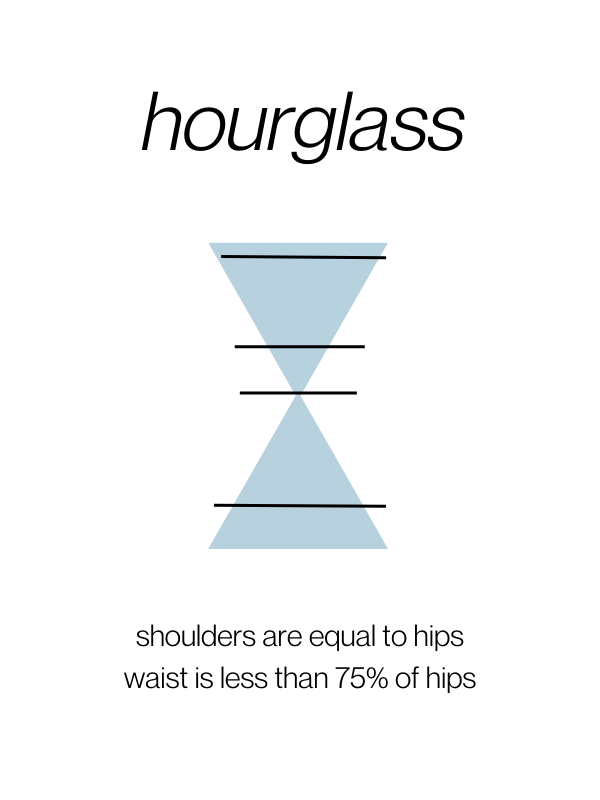 Hourglass body types have shoulders that are near equal in width to their hips, and their waist is less than 75% of their hips. Not all Hourglasses are the stereotypical silhouette.
Celebrity examples:
Blake Lively
Salma Hayek
Sofia Vergara
Beyonce
Emilia Clarke
Inverted Triangle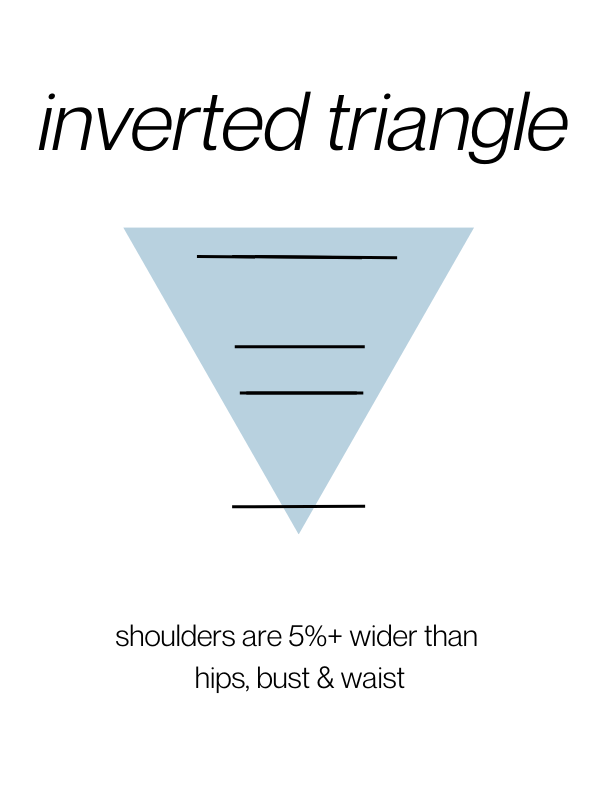 Inverted Triangle body types have shoulders that are 5%+ wider than their hips, bust and waist. This is sometimes so slight that it is hard to notice.
Celebrity examples:
Naomi Campbell
Angelina Jolie
Pamela Anderson
Renee Zellweger
Demi Moore
Rectangle
Rectangle body types have shoulders that are near equal in width to their hips, and their waist is more than 75% of their hips.
Celebrity examples:
Cameron Diaz
Gwenyth Paltrow
Rosario Dawson
Nicole Richie
Jennifer Garner
Triangle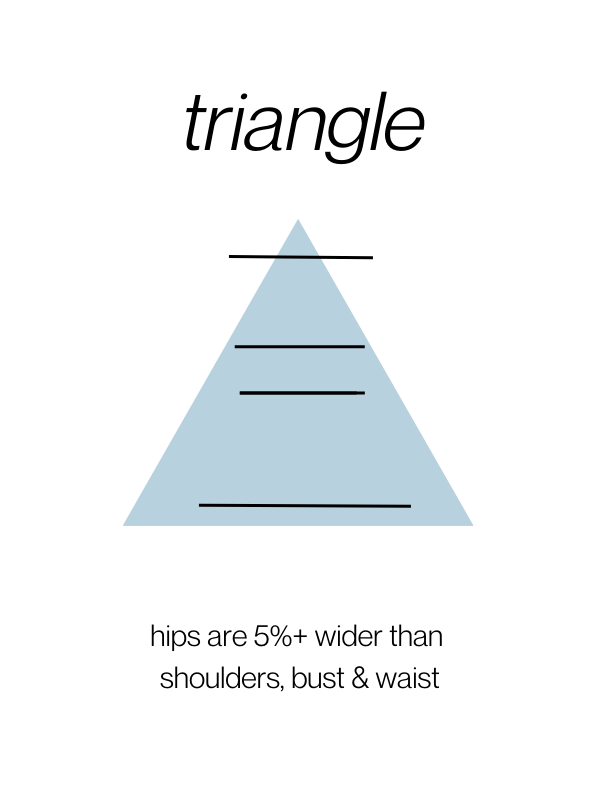 Triangle body types have hips that are 5%+ wider than their shoulders, bust and waist. This is sometimes so slight that it is hard to notice.
Celebrity examples:
Shakira
Kim Kardashian
Jennifer Lopez
Rihanna
Christina Aguilera
Finding Your Body Type
There are many ways to "guesstimate" your body type but this is the way to find your body type that I was taught via TikTok and the way that I will pass onto you, as it's more scientific comparing proportions of our bodies. I will use myself as an example!
Step 1: Take a photo of your body
Ideally, this works best in just undergarments but as I knew I'd be posting this to the internet, I wore a black jumpsuit to minimize the effect clothing would have on any measurements! I would also attempt to keep your hands from your body to not throw off your waist/hip measurements.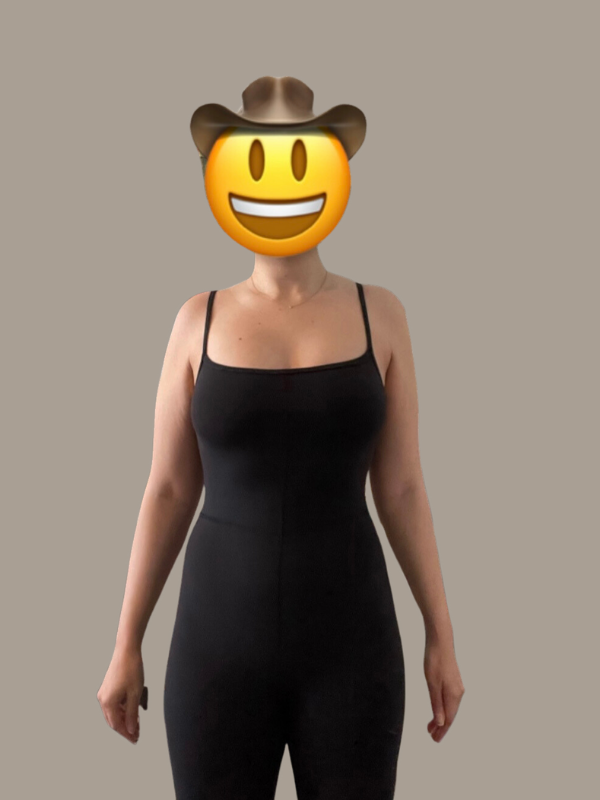 ---
Step 2: Upload it to Canva and use lines to show the width of the four key measurements: shoulders, bust, waist and hips
This is relatively user-friendly. Drag the lines to the full width of each measurement needed for finding your body type.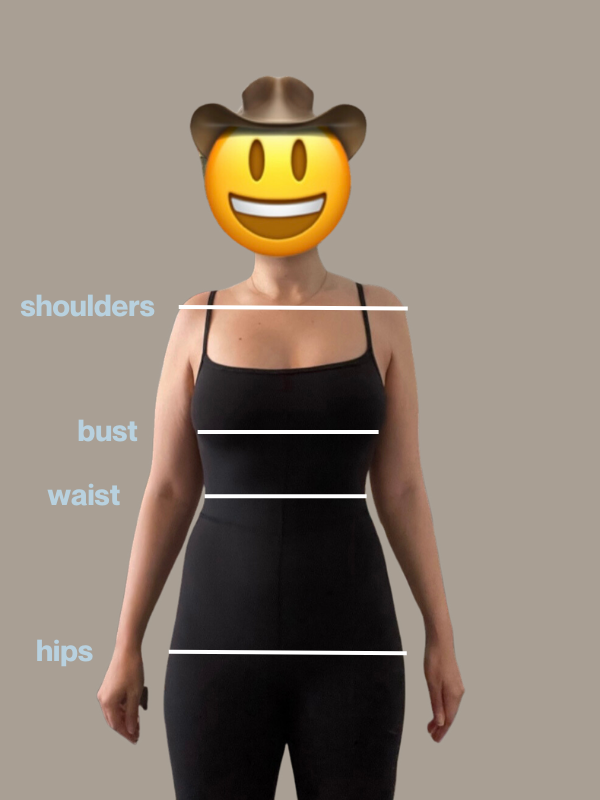 ---
Step 3: Use Canva's tools to calculate the length of each line, and therefore each measurement
You can either jot down the width in pixels as you create the lines (probably easier) or you can select a line and go to Position > Advanced to see the starting and ending points of the line on the X axis. Subtract the smaller number from the larger number, and that's your measurement.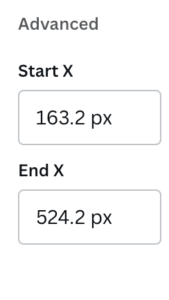 I copied and pasted the lines from my photo onto another page where I then was able to align them all to look at them more clearly against one another, and I also added each measurement.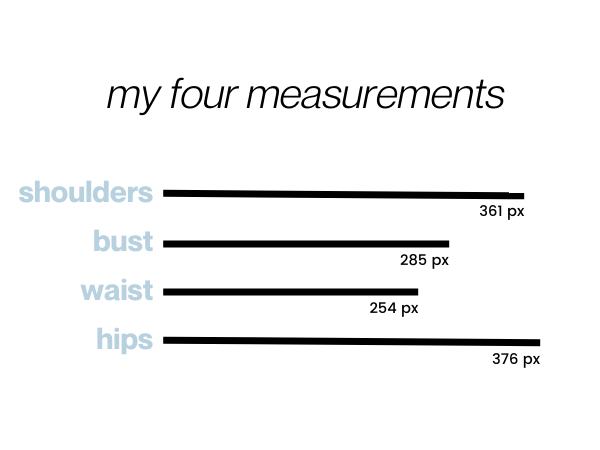 Step 4: Compare your measurements to the requirements for each body type
Looking at my lines compiled together in Step 3, I knew that I because my shoulders and hips were nearly identical, my body type could only be Hourglass and Rectangle. This eliminated Apple, Inverted Triangle, and Triangle, leaving me with my waist to hip ratio as the deciding factor.
As you can see below, my shoulders are 96% of my waist, which is nearly as close to exact as you can get.
A refresher on the differentiator between Hourglass and Rectangle: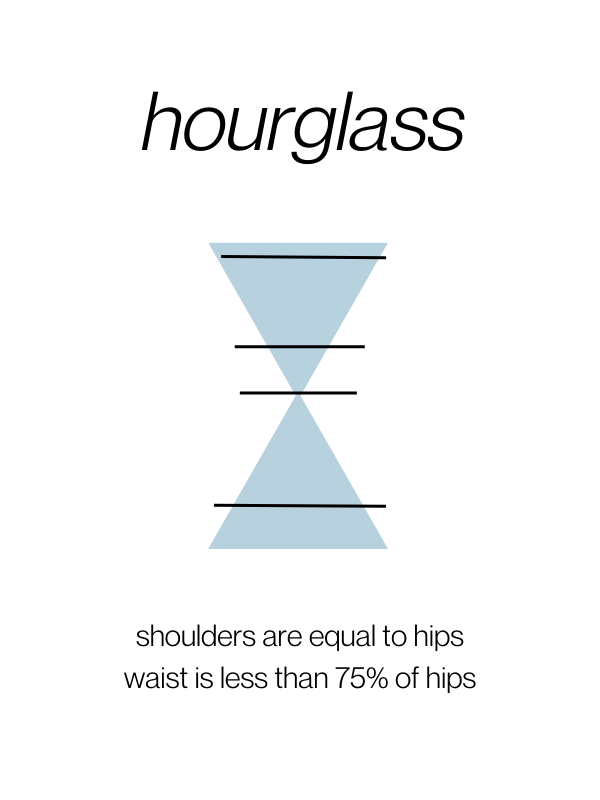 I needed to calculate the difference in size between my hip measurement and my waist measurement. If my waist was more than 75% of my hips, I'd be a Rectangle, but if my waist was less than 75% of my hips, I'd be an Hourglass.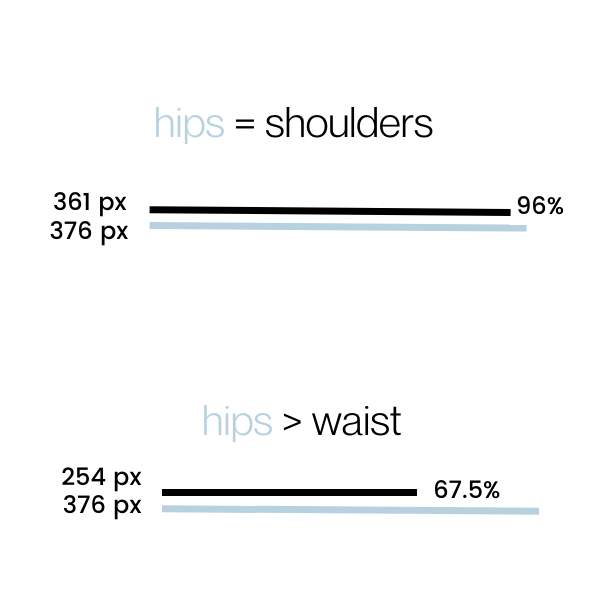 As you can see, my waist is 67.5% of my hips, meaning I am an Hourglass body type!
Dressing for Your Body Type
Now that you know your body type, it's time to learn how to dress for your body type!
I will briefly run through each of the body types' guidelines with some example pieces and outfits, but I encourage you to play around with exploring your body type's "flattering" clothing items as some may work better for you than others! I know this is the case with me, some things I was told to avoid I absolutely love on myself 🙂
Dressing for Apple Body Type
---

---
GOALS
define waistline
take attention away from midsection
add interest to neckline
add curves to lower body
TRY
wrap dresses
a line dresses and skirts
ruffled hem
embellished necklines
loose sleeves
structured pieces
flare to your pants
peplum tops
AVOID
high necklines
lots of material in midsection
skinny jeans
super high waisted bottoms
Dressing for Hourglass Body Type
---

---
GOALS
draw focus to waist and away from bust
keep frame balanced
TRY
belts at waist
close to body skirts
ruching at waist
form fitting shapes
high waisted bottoms
AVOID
boxy cuts
straight silhouettes
wide necklines
large poofy sleeves
peplum and ruffles near waist
dropped waist pieces
Dressing for Inverted Triangle Body Type
---

---
GOALS
balance shoulders and lower body
add volume and curve to lower body
TRY
asymmetrical tops
wide straps
peplum tops
bubble hems
flare bottoms
full skirts
AVOID
form fitting bottoms
horizontal stripes
pencil skirts
skinny jeans
Dressing for Rectangle Body Type
---

---
GOAL
add in curve
break up the rectangle and define waist
TRY
volumnous sleeves
belted waist
crop tops that hit natural waist
high waisted bottoms
flare bottoms
off the shoulder neckline
AVOID
excess of fabric
boxy cuts
high neckline
very oversized cuts
Dressing for Triangle Body Type
---

---
GOAL
add interest to shoulders and waist
balance shoulders and hips
TRY
straight or fitted bottoms
volumnous sleeves
ruffles on tops
peplum tops
collared tops
high rise bottoms
AVOID
low rise bottoms
tight fitting tops
high necklines
Kibbe Body Types
Kibbe Body Types were a major trending topic on TikTok around the time that I delved into body types. The founder hypothesizes that there are 13 true body types, ranging from yin to yang. Kibbe is definitely something that I find interesting, as the advice for flattering clothing is more specific for each type than the 5 "standard" body types, but I feel I'd need to be professionally "typed" to understand it more fully. There are also valid criticisms of the founder and of the Kibbe body types, especially how they relate to normal bodies versus the models/celebrities used in examples.
I wanted to mention Kibbe as it is relevant to the topic of body types, and definitely explore on your own should you wish!
---
I hope this post was helpful in learning how to dress for your body type and finding clothes for your body type. Understanding what cuts and silhouettes of clothing work best for your body is a major part of determining your personal style! Be sure to check out my blog post on finding your color season and finding your personal style as well.
xo Caitlin