Depending on your political affiliation, you may have said, "I'll just move to Canada if ____ wins the election!" So allow me to give you the lowdown on our neighbors to the north as experienced firsthand!
We started our trip by flying into Calgary, Alberta. For being the fifth largest city in the country, the skyline sure looked small! It reminded me of Denver because the mountains were set in the distance.  I was shocked at how much French I heard and saw. I knew it was a national language, but I thought only Quebec used it! I also didn't realize what an international destination the Canadian Rockies are. People from all over the world were in the airport with us. We then got our rental car and proceeded west into the Rockies.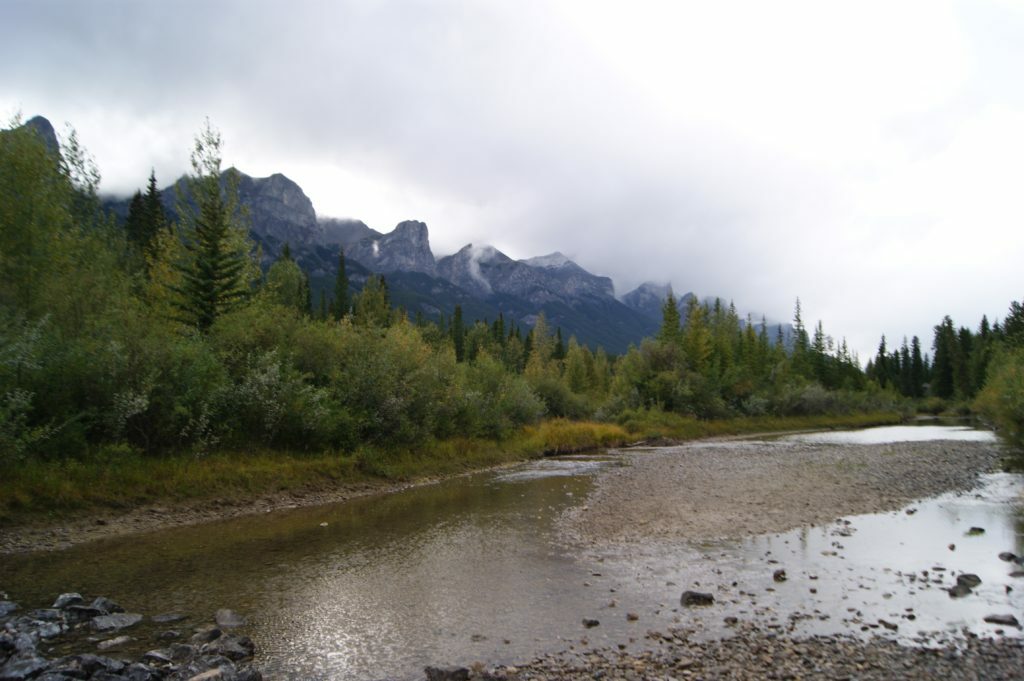 Driving in, you quickly noticed the scale of the Rockies in Canada versus say Colorado. They're massive and all-encompassing. There also are fewer breaks between mountains. Once you pass one by, there's another directly behind it.
We stayed in Canmore, which is about 20 minutes outside of Banff. It's way less crowded and more locals live there. On the first day there it was super foggy, so everything looked like the pre-loaded Mac backgrounds of mountains and fog! We also found a herd of elk in the middle of town.
We had a lot of fun just driving around and exploring ski resorts, scenic overlooks, and mountain trails, especially on days when the weather did not cooperate. For an overview, here's where to go, hike, and eat:
Places to Go:
Banff

Full of tourists from all over the world, looks like an Alpine village! So much shopping!

Canmore
Lake Louise

Small, quaint village, good for lunch and shopping

Icefields Parkway

A beautiful drive into Jasper from Banff, also the way to get to the glaciers

Banff National Park
Yoho National Park
Jasper National Park
Kootenay National Park
Attractions:
Banff Gondola

Panoramic views of Banff and the mountains

Icefields Exploration

Go on a huge mechanized truck and explore a glacier. Dress warm!
Hikes:
Lake Louise
Moraine Lake
Larch Valley
Emerald Lake
Takakkaw Falls – the second tallest waterfall in Canada
World's only three way Continental Divide
Natural Bridge
***If you are going to be going on less traveled trails, it is recommended you bring bear spray along. You can rent it for $10/day at local outdoor shops!
Food:
Ketchup chips – I don't care where you get them, just try them.
Poutine – wasn't a fan but it's what Canada is known for
Rocky Mountain Bagel Company in Canmore
Wood in Canmore
Skoki's in Banff
The pictures truly don't do it justice, but here are some of my favorites.
xoxo